Welcome to Providence Girls' Catholic School!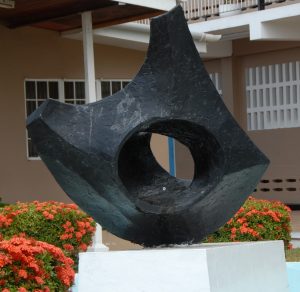 This is Providence Girls Catholic School today. The Inner Eye ( picture above) created by sculptor Pat Chu Foon is the focal point of our school. The outer portion of the sculpture has jagged edges. These pointed edges represent the trials, sufferings and hardships of this world which we all experience. The inner portion of the EYE is a harmonious circle, smooth and flowing concentrically. This represents what must be an area of peace and harmony in our life, and with this peace we must meet and overcome the problems and difficulties which beset us.
Problems overcome by Peace - this is the message of the INNER EYE.
From an educational point of view the INNER EYE represents the many talents that each and every one of us possess. These talents have to be brought out - sometimes from the depth of our being. It is in this that true education lies. This is what Providence Girls Catholic School is all about!!
Mission Statement
To provide a holistic education to students of Providence Girls' Catholic School by developing Catholic moral and spiritual values together with a solid academic base to the fulfillment of each student's potential in a dynamic learning environment. 
Vision Statement
To be a leading Catholic Girls' School in Trinidad and  Tobago producing quality Christ-centred, socially responsible individuals through holistic education using technological advancement in a radically changing society. 
School Pledge
We pledge
to be loyal, devoted and true to our God
to treasure liberty, truth and duty
to value the dignity of womanhood
to improve the quality of life in our country
to serve our fellowmen through hard work and honest toil
to build a society based on justice, peace and love.
School Motto
Maria Duce - Mary Leads